The Philadelphia Story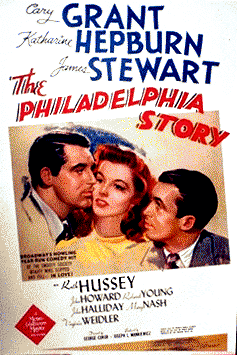 It was her label as "box office poison" that drove Katharine Hepburn to the stage in the late '30s and the later success of The Philadelphia Story. Wisely securing the rights to the widely successful play in which she starred on Broadway, Hepburn called the shots on the film version in terms of director (George Cukor) and co-stars (Cary Grant and Jimmy Stewart). The rest is film history -- a smash comedy among the Philadelphia upper crust that skewers the pretensions of the rich and the hunger of the tabloids for a hot story, while offering up the irresistible plight of Hepburn being torn between Grant and Stewart. We should all have such problems!

Tracy Lord (Hepburn) is preparing for her imminent wedding to a society dolt when, thanks to her father's infidelities, she's forced to entertain tabloid reporter Mike Connor (Stewart) and photographer Elizabeth Imbrie (Ruth Hussey) during the ceremony preparations. Hovering on the peripheries of the Lord mansion is Tracy's first husband, C.K. Dexter Haven (Grant), who never passes up an opportunity to play a game of verbal hand grenades with Tracy. It's Dexter who has rigged the visit of the press, which sets off a chain of romantic sparks among the efforts to prove to Mike and Elizabeth that Tracy's family is indeed a happy one.

Hepburn and Grant made four films together, and The Philadelphia Story contains their best verbal jousting. Armed to the teeth with one-liners and insults, the two create a palpable chemistry that clearly signals they were meant for each other. Hepburn has an equally powerful connection with Stewart, in a more conventionally romantic way, that winds the romantic tension tighter -- who will Tracy choose, Dexter or Mike? The outcome may be obvious, but The Philadelphia Story provides a hilarious trip to the very end.

Please visit the links below to discover more about this wonderful, romantic, funny movie and the three fabulous actors (three of my favorites) that portrayed the strong, funny, all-too human characters that brought this film to life..

(above information taken from this site...see Sidewalk Seattle for more information!)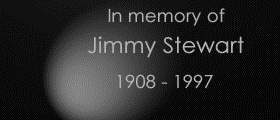 A great site, in honor of Mr. Stewart
Jenny's Cary Grant Shrine

Back

Guestbook