Winnie-The-Pooh
is a cute little bear,
he smile and wiggles,
way up in the air,
he peeks behind 'puters
to tell you "hello,"
and wishes you happiness
wherever you go!
He floats high above
the world
oh so high,

to make sure there's often
a sun in your sky.
I'm sending this Pooh,
puters, planes and balloons,
and hoping that I,
will hear from you
SOON!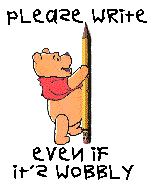 Please write soon, even if it's wobbly.
I miss you, my friend.
Back~~~~~~~~~~~~Next
Send more icq greetings, poetry or virtual flowers at: